Orthodontic Treatment Options

Palace Plain and Regent Road Orthodontic Practices carry out a full range of orthodontic treatment options under both the NHS and private contract.
NHS treatment is only available to patients under the age of 18 with a demonstrable need for orthodontic care.
An Index of Orthodontic Treatment Need (IOTN) is used to assess a patients orthodontic need and the individual score determines whether the case is severe enough to warrant NHS funding. These are nationally agreed guidelines and the minimum score to qualify for NHS treatment is 3.6.
Private treatment is available to all patients, both children and adults. The cost of an initial consultation is £110. This includes a detailed report and treatment plan which outlines the costs for the proposed course of treatment.
Fees vary from £1,800 for more simple treatments to £4,800 for more complex problems but you will be given an exact quote once the orthodontist has had an opportunity to assess your orthodontic needs.
Interest free payment plans are available to help spread the cost of treatment.
You can discuss the benefits of private treatment over NHS treatment when you see your orthodontist but essentially the treatment results will be to the same high standard for both options. However, private treatment offers more choice with aesthetic (tooth coloured) braces, a shorter waiting list and more flexibility with appointment times (i.e. after school appointments).
Ceramic braces, dental aligners and lingual braces are not available on the NHS.
Orthodontic Appliances
Undergoing a course of orthodontic treatment involves a great deal of commitment but the benefits of treatment include:
Improved appearance of teeth, smile and face.
Improved self-esteem and confidence.
Improved function of teeth.
Improved ability to care for teeth and gums.
The orthodontist will assess your orthodontic needs and will recommend the most appropriate orthodontic appliance for your treatment.
Fixed Appliances
These are commonly known as "train tracks" and consist of individual brackets which are stuck to the teeth. Tooth movement is achieved by using thin flexible wires, elastic bands and small springs. The teeth are gradually moved into their correct position with gentle pressure as the wires are adjusted. Brackets can be either metal (stainless steel) or clear (ceramic). Some patients like to customise their appliances with coloured elastics. The brackets are even available in gold.

Ceramic brackets

Metal brackets
Removable Appliances
These consist of a customised plastic base plate with wires, springs and screws attached. Removable appliances are generally used for simple tooth movement but are commonly used in the initial stage of more complex treatments with fixed appliances. Simple problems that might be corrected with removable appliances alone include single tooth movements and arch expansion.
Functional Appliances
These work by altering the position of the jaws and the way the upper and lower teeth meet. This stretches the muscles around the jaw and face causing forces to be transmitted to the teeth which results in an improved occlusion and profile.
Functional appliances are only used in patients with a significant jaw discrepancy with or without misaligned teeth. They are only used in teenagers during their growth spurt but if worn diligently the results can be quite spectacular. The most commonly used functional appliance at the practice is the Twin Block which consists of an upper and lower removable appliance which guides the patient's bite into the correct postured position.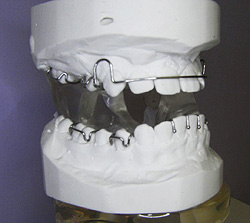 Clear Aligners (i.e. Invisalign)
These consist of a series of clear plastic aligners which are developed using 3D computer technology to carry out tooth movement. Often known commonly as invisible braces it is a relatively new technique and is not suitable for treating all types of orthodontic problem. Your orthodontist will be able to advise whether aligners would be a suitable option in your particular case when you are assessed.
Lingual Appliances
These are fixed appliances that are attached to the inside of the teeth so they are much less visible. However, treatment times are longer and because the brackets are custom made, treatment is much more expensive.

Retainers
These are appliances that are worn at the end of orthodontic treatment to hold your teeth in their new position. There are two types of retainers:-
Removable – these are like a very thin mouthguard and are generally worn at night only.
Fixed – these consist of a fine wire that is glued behind the teeth to keep them in position.
Your orthodontist will advise you which option is most appropriate for your particular case but retainers are a very important part of your orthodontic treatment. Failure to follow advice with retainers can result in the teeth moving back towards their previous position. Retainers must be viewed as a long term commitment if the improved alignment of the teeth following treatment is to be maintained.